Except for reference material as annotated herein, the collective content of this website is copyrighted by GuruJah.org.
Your respect of that is appreciated. If you desire to use our content from this site, please ask.
Thank you,

Guru Jah here

… ©1998 – 2017​

The pages you are about to view are an experiment;
​they are the actual content of our book release:
​"Deepen Love and Happiness with Healthy Anger:
​A guide to Owning and Expressing our Feelings."
Contextually herein, they are addressed as "Healthy Anger."
Of course we want to sell copies of the book in its various forms; but, the information needs to available to the people, sale of a book or not. If through the course of time, we have staggering numbers of page hits contrasted with minimal book sales, we may take another look at this experiment. But for now, the book is both for sale, and it is free.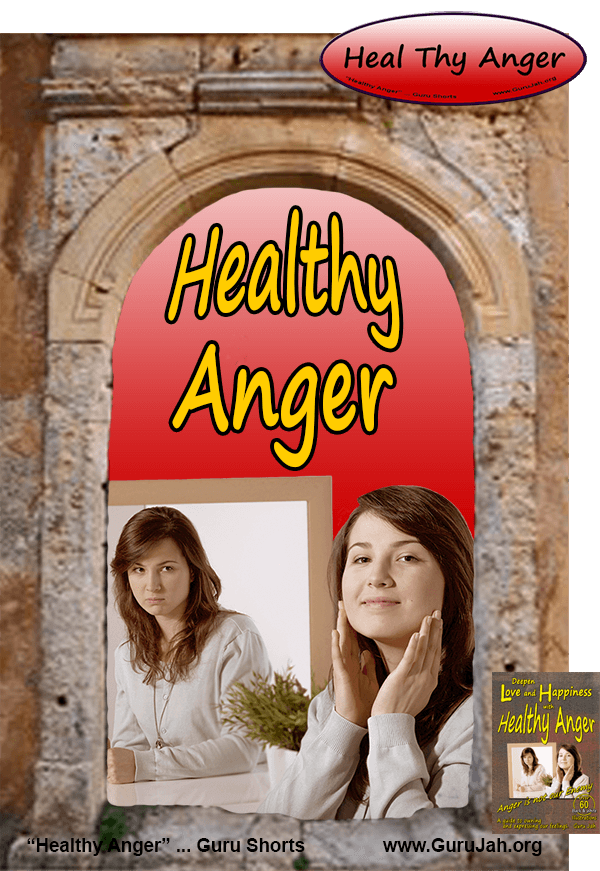 Our vision: Creating a truly happier and healthier humanity within which we all might dwell; it begins with each and every one of us.
The book synopsis:
​
We all experience various degrees of Love and Happiness. But when
​you are ready to deepen those experiences, you will need this book.
​
We have designed this writing to maximize getting you to Deeper Love and Happiness through understanding anger in a very different way.


Anger is not our enemy. Anger is the front line defense to hurt feelings.
Within these pages, you will be directed through a formula for Healthy Anger, the Steps of Discovery, the Five Steps of Finding Anger Issues, and, seeing the Six Steps to Forgiving in a unique perspective. These processes take us to the core of our hurt feelings and emotions in a way to resolve them. The end result is a sense of freedom to trust ourselves opening up to far deeper expressions of love and happiness, for ourselves and in our relationships.
We incorporate over 60 illustrations to impart visual understanding of key points that can stay with the reader far better than just the written word. Print editions of this work are available in both Full Color and a Black & White [Greyscale] version.
And for the Digital Readers, we offer a Full Color eBook Release which will appear in various formats … ISBN: 978-0-9914504-3-5
Only $9.99

All links below​ open in a new window
The print versions of this book have specific pages set aside for readers to make important notes from the exercises. Since this presentation of the book is akin to the e-Book versions, the language of those page referrals is altered accordingly. "Healthy Anger" is an exact duplication of the e-Book with the following exception: spacing, ISBN inclusion, the "next page" button, and the "Heal Thy Anger" icon.
[Editorial Note: Some few readers may find language chosen to impart characterization as unseemly.]
​
Blessings on your journey, and happy reading.
​
Guru Jah here …
Illustrations are copyrighted in the following manner: Many are created utilizing purchased artwork from various sources under appropriate licensure as a component thereof; copyright of that portion remains with the original creator. A few illustrations utilize components modified from Creative Commons with appropriate licensure for-to-which copyright remains under Creative Commons for that portion thereof; licensure information at http://creativecommons.org/licenses/by/4.0/. Opens in a new window.
​
​All others are sole creations of, and fully copyrighted by, Guru Jah.
Guru Jah, GuruJah.org, and affiliates thereof, are not part of any established "standards of care" or "scope of practice" in any licensed health care profession, including the practice of medicine. This book is not to be taken as a binding contract between the reader and the aforementioned parties; that contract is solely between the reader and themselves. If the reader feels they need professional therapy, it is their sole duty to fulfill that need.

Full Color
Print Release … ISBN: 978-0-9914504-5-9
Available as a direct order through GuruJah.org
-or-
Your favorite book store.
Only $23.95
Black & White
[Greyscale] Print Release … ISBN: 978-0-9914504-4-2
​​Only available as a direct order through GuruJah.org
now ... Only $15.95

​...​the same bonus features apply for direct orders through GuruJah.org ...
ePub versions direct from SmashWords
​

Amazon [Kindle]


Barns and Noble [Nook]


iTunes [iPhone, iPad, iPod touch, and Mac]


Kobo [Kobo Glo HD, Kobo Aura H2O, Kobo Touch 2.0,
​Kobo Aura, Sony Readers, All eReaders]


Baker & Taylor's Blio [Nook, Kobo, Google Play, iBooks,
​Sony Readers, All Adobe DRM-based readers]


[Cannot link directly]​​



And of course, you can read it here ... FREE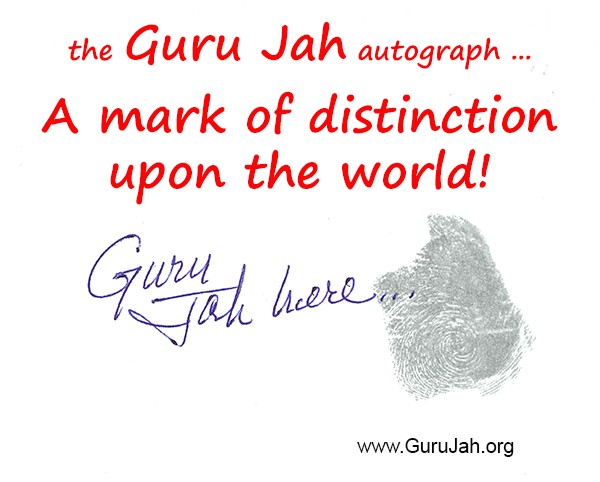 GuruJah.org direct orders
​
Bonuses:
​
1- Each book is shipped free*
2- Each book is uniquely autographed to you, the buyer**
3- Each book is personally blessed with the Flowering Heart Blessing by
Guru Aum Jah

​* free shipping "Media Mail USPS" only
USPS Priority Mail Shipping is optional

*​*Please​ indicate the name you wish included in the autograph when placing your order in the PayPal checkout ...
Direct Orders
are typically shipped within 3 business days. [Exceptions occur during the summer months while attending festivals and gatherings in June and July.]
​
​*Free shipping is to the continental US only via USPS media mail: allow 1 to 2 weeks for delivery dependent upon your location.
​
For discounts on orders of
​more than 3 copies,
​please email Guru Aum Jah for pricing.
Click Bugger's image to proceed
Select your shipping preference
in the drop-down menu​
Select your shipping preference
in the drop-down menu​

​See a buyers review HERE:


opens in a new window or tab​