Except for reference material as annotated herein, the collective content of this website is copyrighted by GuruJah.org.
Your respect of that is appreciated. If you desire to use our content from this site, please ask.
Thank you,

Guru Jah here

… ©1998 – 2017

Visits since 01​​/23/2017
M

oksha
​

M

agick
​ for

C

ouples
An aspect of Moksha Magick


​​मोक्ष


Moksha​


meaning to spiritually free,
let go, release, liberate
with the Guru of Moksha,
​Guru Aum Jah
Moksha Magick for Couples takes your partnership to a deeper level of bonding through experiencing the Divine within each participant and sharing that union in Oneness. It expresses in your partnership sexually and emotionally toward creating a life desired by both.
For future Scholarship Opportunities
​in other areas of the country CLICK HERE

We welcome any and all comments, questions, and dialog
to encourage everyone's deeper understanding.
Guru Jah here ...
Moksha Magick



Harnessing the power of our Sexuality and fusing it with our
​Divine Essence in Sacredness,

that is Moksha Magick

.
Taking that infusion to manifest Magick,

that is Moksha Magick

.
Liberation and Empowerment,

that is Moksha Magick

.
A sense of Connection and Self-expression,

that is Moksha Magick

.
Sharing our Divine Essence as One,

that is Moksha Magick

.
Healing the needs of the people as seen by them,

that is Moksha Magick

.


Please bring a blanket or yoga matt for

each

attendee to lie upon and pillows as desired for your comfort. We do provide a lite lunch for participants but cannot accommodate special dietary needs. You may address any questions to Guru Aum Jah via the "Contact Us" tab at the top of this page or by calling 813-704-8949.
Moksha Magick practices can change your worldview,
your life, your depth of intimacy,
and open the fullest expression of you True Self.
It's your choice!

For

Open Road
Training Availability Contact via Email:
Guru Aum Jah

​​or

Phone:
813-704-8949​​
Blessings on your coming to fullness through Moksha Magick for Couples. Your trust afforded to this training is an honor unparalleled.
​


Guru Jah here …



Testimony to the healing of engaging in Moksha Magick below ...
In Testament



​​From Dr. Anya: dranya.net


Opens in a new window or tab​



Thanks so much for a wonderful, truly transformative Moksha class!

I feel so grateful and blessed, invigorated and awe-struck!

And ... A massive thanks for teaching Moksha.

Yesterday was truly transformative.
My life now will be divided into Everything That Happened Before Yesterday
and Everything After.

You are so filled with goddess!
What an abundance you shared with us all!



From our Moksha training classes: 2014
In Testament



From Christine:

Phenomenal!! I am not the same person
I was this morning.

​Thank you so much for bringing this to us!

And so much gratitude to everyone who was on my "table" that was a truly ecstatic experience holy moly... and no, no flowers for anyone =)

It has indeed been a matter of Before & After...

I have had several things shift energetically in these last weeks and I've been a little distracted!

The way I cycle Earth/Divine energy has changed, I am more open to the magick at The Farm, and the lid is being ripped rather dramatically off of a serious energy exchange with a certain individual.

Even my body physically responds differently... I have sensitivity in my g-spot that wasn't there before that was definitely lit up during the ritual!! Woot!!



From our Moksha training classes: 2014


​​
Open Road Training



​Moksha Magick overview presentations are available
​for Festivals and Gatherings

​Moksha Magick Level I & II training is available separately
Check our Events Page* for current locations

​Travel fees may apply dependent on your location and my current venue. Details on the Scholarship page.


*Opens in a new window or tab
You will experience the Divine within at a deeper level than our training in both Moksha Magick Levels I and II combined. We include experiential exercises as part of that Awakening that brings participants to a space of sharing that Divine space. That sharing of Divine Essence we know as Love. Through our Ritual training, you have the opportunity to create an unrivaled partnership bond manifesting self-expression in Trust and Acceptance.
Moksha Magick for Couples takes the "hocus pocus" out of Magick and we train participants in down to earth, manifestation of real miracles that affect your life with proactive choice. You as a couple can find freedom to create exactly what you desire in your personal lives, your mutual life, and your relationship.
Moksha Magick for Couples teaches skills of Sacred Sexuality as a tool toward these Divine and Magickal ends, yet these skills dynamically enhance the everyday sexual experience of your relationship. Any empty feelings disappear as partners realize that "something more" in themselves and each other. These adapted sexual skills honor your flesh, your Soul, and your Spirit.
Nearing the end of your training, we offer our unique "Couples Cross Attunement" geared toward uniting the Divine presence within and further enhancing all aspects of your relationship, including Sexual and Magickal. While this "Couples Cross Attunement" is highly recommended, it is not a requirement of participation.
Attendance in Moksha Magick for Couples [couples meaning two people] must be with a sexual partner of choice. All gender orientations are welcome.
In the light of modesty, for the potential safety and comfort of all participants, the training shall culminate with a dry run [meaning no genital exposure] practice session with your attending partner. Participation is strictly to personal comfort levels of the attendees.

​​To that end, we request that attendees come prepared to wear either swimwear or underwear attire of personal choice. At its conclusion will be a Q & A session, after which those wishing to depart may do so in dignity with full respect for your choice. All attending couples will receive an in-depth manual taking you through the techniques as taught.
For attendees who desire to experience this Ritual to its ultimate end, we offer an after session, post-training second round with each couple's full engagement [sexual intercourse is not part of the Ritual]. This Ritual is clothing optional. The advantage of this second round is the more individualized verbal guidance geared toward fully embracing all sexual aspects of this training in real time as it happens. While personal accessories of choice may enhance your Session experience, we
​do not provide those, please honor your own personal needs. At its conclusion will be another Q & A session.


This second round is completely optional.​
Attendance in Moksha Magick for Couples is limited and only offered in FL biannually. To avoid the disappointment of a last minute registration only to find it closed [full], please register early.
Join us in the fall, 2017
Register coming soon

Registration fees are only for the training session and manual as separate from our offering for an actual post-training Moksha Magick Ritual Session for Couples.
Our Venue:
​
This hosting is located in Sarasota FL, a vacationing hotspot known for the Ringling Brother's Museum and the Siesta Key's renowned 99% white-quartz-sand, Siesta Beach. SRQ International Airport is 11 short miles to our venue site in Sarasota FL's eclectic small business Gulf Gate District. The Wild Ginger Apothecary: Studio + Lounge* affords a sense of safety and comfort in a public setting with appropriate privacy. 6553 Superior Ave, Sarasota, Florida 34231
​*

link opens in a new tab or window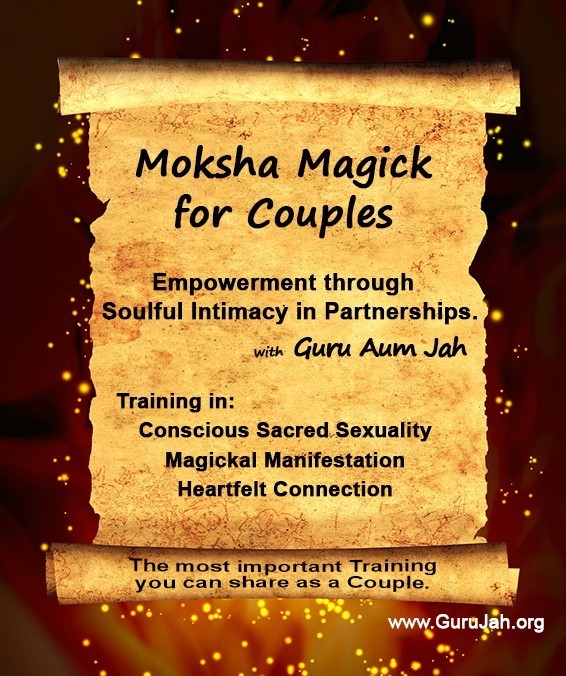 Participating in Moksha Magick for Couples does NOT qualify participants to engage in Moksha Magick Group Sessions. Separate training in Moksha Magick Level I is required to qualify for participation in Moksha Magick Group Sessions. Click HERE for details.
Benefits of Moksha Magick for Couples:



​• Self-acceptance - Partnership acceptance
• Self-empowerment for each participant
• Joint healing
• Higher Creativity
• Sacredness in your shared sexuality
• A sense of Mastery over your lives
• A sense of Mastery over your sharing
• Finding your True Selves
• Embodying your True Selves
• Seeing your True Selves - the Deepest Intimacy you can achieve

The Benefits are priceless and lifelong for each individual and the partnership. Your investments in yourselves as a couple are eight hours of your time, the courage to take this opportunity to empower your relationship, and $140 per person in registration fees.

Each partner must preregister to attend this Training Opportunity … no exceptions.