Except for reference material as annotated herein, the collective content of this website is copyrighted by GuruJah.org.
Your respect of that is appreciated. If you desire to use our content from this site, please ask.
Thank you,

Guru Jah here

… ©1998 – 2017

M

oksha
​

M

agick
​ for

G

roups
An aspect of Moksha Magick


​​मोक्ष


Moksha​


meaning to spiritually free,
let go, release, liberate
Like virtually everything on this planet, Moksha Magick has evolved from its beginning roots. In the beginning, there were no training classes and all Moksha Magick Sessions were based on group participation; but that was more than 15 years ago. As the practice grew and expanded to other geographical locations, Group Training became a real need.
Before going into an Outline of Group Training, we remind you of the one concept that prevails in all Moksha Magick Training Opportunities;

that concept is the comfort and safety of everyone involved

. It is all about playing well with others. As expounded upon in our Sacred Sexuality and Moksha Magick landing page, the first three rules governing Moksha Magick are:

That outline may not sound like much, but a typical Group Training Class is seven-hours long plus an hour for lunch. Subject matter is far beyond one-line quickie statements and questions are always welcome. Trainers augment Training Sessions with Training Manuals so trainees miss nothing. We take this training seriously, but well sprinkled with smiles, lightheartedness, and Love.

Never underestimate the power of the energies you carry. A fully embodied Divine presence sends a message of Love in Acceptance and Appreciation for yourself and others. A healed and healthy sexual expression with that Divine Essence comes forth as part of that Loving essence. That energy will be far more widely received, trusted, and Appreciated. You will
​attract appropriate sexual interaction with others of choice;
​it's an energy we all desire, and need.

We welcome any and all comments, questions, and dialog
to encourage everyone's deeper understanding.
Guru Jah here ...
Moksha Magick Level II


[Advanced Application Training - includes Facilitation and Group Management Skills]

Review and open question period for Level I material
A Self Directed Test on practitioner Roles [Yes, we insure Level II practitioners know their "stuff"]
A Self Directed Test on Moksha Magick Tenants and Rules [Same as above …]
Establishing Groups
Setting up Group Sessions
Facilitating Group Session
Participant Solutions
Teaching considerations [A Level II practitioner is currently authorized to teach Level I]
The "How To" of Attunements
Teaching Energy Work
​Teaching Skill Sets Needed as a Whole
Practice Rounds of Privately Facilitating Ritual Roles
Level II Attunement
A Moksha Magick Session if desired and if time permits [again, not included in the registration fees]

We invite you to explore our Moksha Magick Training Opportunities as is right for you.
Moksha ​Magick Level I - Being offered Oct 07th ... Click Here

... opens in new tab


Moksha Magick Level II - Being offered Oct 08th ... Click Here

... opens in new tab


Moksha Magick for Individuals - Being offered November 04th ... Click Here
Moksha Magick for Couples​​​ - Being offered November 05th... Click Here



Moksha Magick



Harnessing the power of our Sexuality and fusing it with our
​Divine Essence in Sacredness,

that is Moksha Magick

.
Taking that infusion to manifest Magick,

that is Moksha Magick

.
Liberation and Empowerment,

that is Moksha Magick

.
A sense of Connection and Self-expression,

that is Moksha Magick

.
Sharing our Divine Essence as One,

that is Moksha Magick

.
Healing the needs of the people as seen by them,

that is Moksha Magick

.


Moksha Magick Training Availability



While the common Moksha Magick experience is within a group of practitioners, we do offer both individual and couples only training. Rates may vary dependent upon location.

Does Level II sound a little tougher? It is. We deepen the knowledge and understanding of Moksha Magick so that the Level II practitioner can bring the Moksha Magick experience home for everyone.
Moksha Magick practices can change your worldview,
your life, your depth of intimacy,
and open the fullest expression of you True Self.
It's your choice!

For

Open Road
Training Availability Contact via Email:
Guru Aum Jah

​​or

Phone:
813-704-8949​​
Being a Level II practitioner does not create a hierarchy nor does it require that one teach Moksha Magick Level I. But it is required that a Level II practitioner be present at any Moksha Magick Group Session to facilitate Ritual Roles for that session. That alone is a privileged honor in trust. One does not "have" to use their Level II training; it is up to them. Nevertheless, they have walked out our doors with a far greater knowing of the "why" in Moksha Magick.
Testimony to the healing of engaging in Moksha Magick below ...
In Testament



​​From Dr. Anya: dranya.net


Opens in a new window or tab​



Thanks so much for a wonderful, truly transformative Moksha class!

I feel so grateful and blessed, invigorated and awe-struck!

And ... A massive thanks for teaching Moksha.

Yesterday was truly transformative.
My life now will be divided into Everything That Happened Before Yesterday
and Everything After.

You are so filled with goddess!
What an abundance you shared with us all!


In Testament



From Christine:

Phenomenal!! I am not the same person
I was this morning.

​Thank you so much for bringing this to us!

And so much gratitude to everyone who was on my "table" that was a truly ecstatic experience holy moly... and no, no flowers for anyone =)

It has indeed been a matter of Before & After...

I have had several things shift energetically in these last weeks and I've been a little distracted!

The way I cycle Earth/Divine energy has changed, I am more open to the magick at The Farm, and the lid is being ripped rather dramatically off of a serious energy exchange with a certain individual.

Even my body physically responds differently... I have sensitivity in my g-spot that wasn't there before that was definitely lit up during the ritual!! Woot!!


​​

Introductory ​Moksha Magick presentations are available
​for Festivals and Gatherings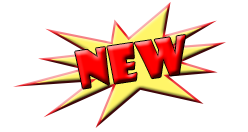 Registration fees are only for the training session and manual as separate from our offering for an actual Moksha Magick Session.
Though you may desire to make a "love offering donation,"
​there is never a fee for a Moksha Magick Session​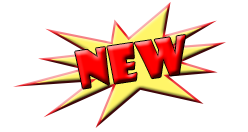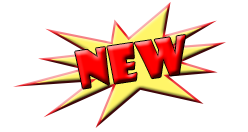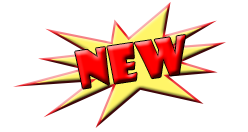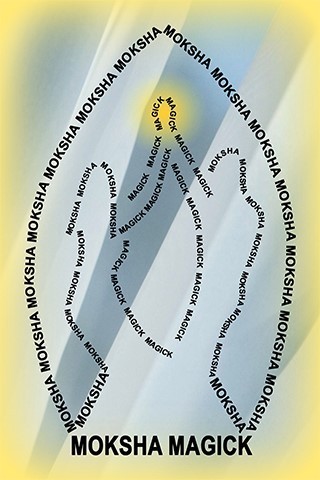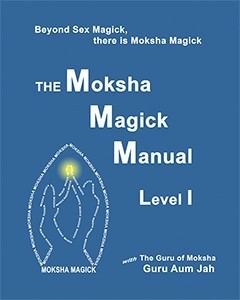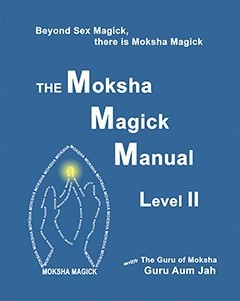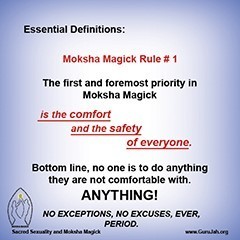 • Rule # 1


The first and foremost priority in our Moksha Magick ritual is the comfort and safety of all practitioners.




• Rule # 2


There shall be no Sexual Intercourse in a Moksha Magick Session.




• Rule # 3


As part of the safety and comfort of everyone, one of the established rules is that
What happens in a Moksha Session STAYS IN THAT MOKSHA SESSION!

In every aspect of Moksha Magick, our goal is to create a container of

Safety

and

Comfort

for everyone, including

YOU

.

So "What does Training in Moksha Magick for Groups look like?" Fair question. Nutshell answers from our Training Outlines.
Moksha Magick Level I



A history of Moksha Magick
The meaning of Moksha and its application in Moksha Magick
Definitions around sex
• Sacred Sexuality
• Moksha as sacred sexuality
• Self as sacred
• Divine connection
• Intimacy
• Oneness
• Coming from a place of love and Oneness

The Primary Rules and tenants of Moksha Magick
Energy work discussion and exercises, including the Chakras
Utilizing Sex Magick
The art of Intention
Ritual Aspects
Various roles within a Group Session
Attunements [Much like Reiki Attunements]
​
Optional Practice Session [As desired. The number one rule in Moksha Magick is the comfort and safety of everyone. The word "optional" means it is an option, not a requirement. For legal purposes, this Session is not included in the Registration fees]

We strive to afford every participant these Benefits of Moksha Magick Level I Training for Groups:
• Exploring Sexuality in a

Safe

and

Comfortable

environment
• Experiencing the Sacredness of Sexuality in everyone including yourself
• Experiencing Divine Connection in others and yourself
• Acceptance
• Taking part in something bigger than you alone
• Experiencing unthought-of

Intimacy


• Feeling Empowered
• Feeling Authentic
• Opportunity for Personal Growth and Expansion
• Participating in

real

Magickal Changes
• Self-Healing through Group Ritual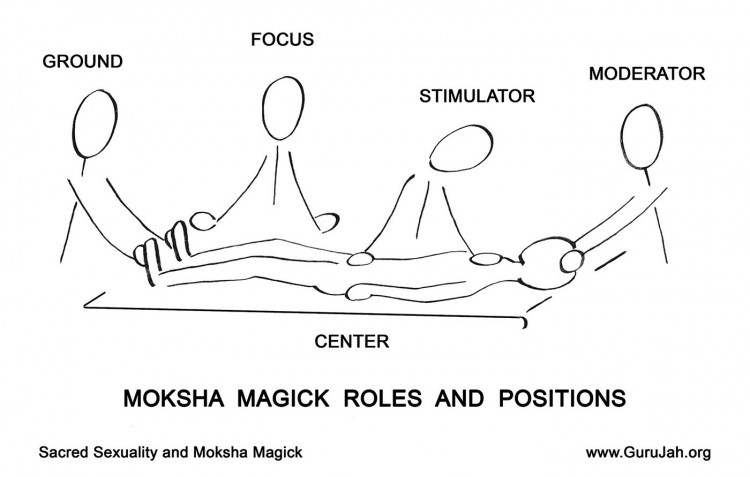 We strive to afford every participant these Benefits of Moksha Magick Level II Training for Groups:
• Far deeper understanding in the principals of Moksha Magick
• Self-esteem in Providing a

Safe

and

Comfortable

environment
• Understanding what that means to people
• A greater sense of Oneness in community
• Self-Assurance in Miracles of Magick
• A sense of Direction through Ritual Application
• Pride in Leading people to Healing, including yourself
• Self-Respect by Leading people to grow, including yourself
• Appreciation and Respect of people's

Sexual Needs

and

Boundaries

,
​ including your own
• A sense of

Trust

through shared

Intimacy


• Acquired ownership in Self-Responsibility of participants, including yourself
• Self-Transformation through learned Energy Applications
• Empowerment through Unleashing people's Potential, including your own

Moksha Magick:
​ A Sacred Sexuality Rite with Magickal Intention
For Moksha Magick Group Training in Central Florida, we invite you to visit Circle of Light Unlimited for Training Opportunities with Niki Kissell.


Opens in a new window or tab.​
In Testament



​​From Lolita:
​
"Out of all my other Sacred Sex experiences, Moksha Magick has been superior! "

In Testament



​​From Carrie:
​
"Wow, I feel honored, and that article shows me why I feel so amazing now All bad energy has been gone since I returned home. I feel so blessed to have met you two. Thank you for bringing life back to me."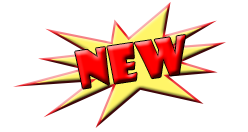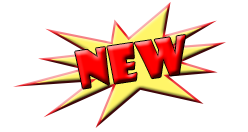 Because various trainers teach Moksha Magick for Groups, we have omitted further particulars for Moksha Magick for Group Training with Guru Aum Jah. Although the rules are constant, every trainer will have their particular area of focus. Should you be curious of the areas of focus with a particular trainer, simply contact them and assess your personal needs accordingly.

Moksha Magick for Individuals and Moksha Magick for Couples along with

THE

Moksha Touch

TM

are unique to Training Opportunities in Moksha Magick with Guru Aum Jah alone.